As Clutter Gallery prepares to host TNT Plastic for their first Solo show, The Gathering, we took this opportunity to ask them a few questions to get to know the guys behind the name!
---
Who is TNT Plastic?
Hi! We are TNT Plastic … Tommy and Trevor. We are from Northern Virginia, just outside of Washington, DC. We have been making designer toys, resin toys in particular, since 2019.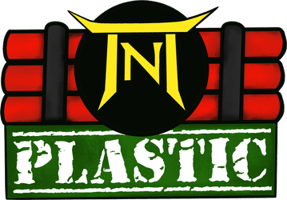 Who/What are your biggest influences?
Task One has been our biggest influence from the very beginning. The style and quality of his pours really speaks to us, and sets a high bar that we are constantly aware of. Other influences from the toy world are Candie Bolton for painting, Alex Pardee for character design, and Woes for the King Panda piece which we feel is a practically perfect resin toy.

We are also heavily influenced by the comic books, video games, movies and TV shows of our childhood like Star Wars, Transformers, Voltron and Nintendo.
Tell us something special about the upcoming exhibition with us.
We are very excited that Clutter is hosting our first solo show! We are looking at this as a turn of the page for us with the retirement of the original Milton sculpt, the debut of the 5″ resin Snalien, and the introduction of our new character, Chum.
We had a few things that we wanted to accomplish with the show. One of the things that was important to us was to have a cash and carry item so that people could go home with a Snalien that evening. We also wanted to show several different designs and techniques throughout the pieces of our show.
What are a few of your favorite tools/materials?
We love utilizing unconventional tools not necessarily found at the art supply store. Many of the items we use are from the hardware store or are baking supplies. We do love our bench sander, and resin from Alumilite.
How did you find out about designer toys?
Trevor owned an online toy store for about 10 years starting in the late 90s. He imported several lines of toys from Japan, many of which were old-school designer toys like Medicom and Toumart. The first designer toy that caught Tommy's eye was the Tlaloc Dunny by Urban Aztec. This led to his discovery of Task One's Dunny customs.
What advice do you have for an aspiring artist?
Persistence. You will fail, but don't be discouraged. Use your mistakes to develop new processes that fit your method. Understand that a big part of this is trial and error.
For those not familiar with your work, how would you describe your style?
We've used simple, character-driven sculpts that allow us to focus on the resin pour. Our characters tend to be hybrid creations that are whimsical and familiar. We are fans of vibrant colors, and love making things that glow.
---
Come see all these amazing pieces and more during the opening of TNT Plastic's "The Gathering" this Saturday, October 14th at Clutter Gallery in Beacon, NY!